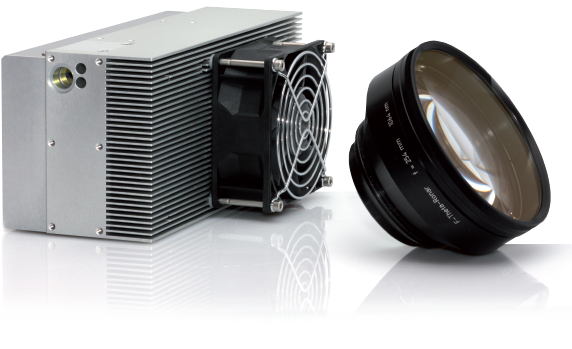 Features
Up to 40W @ 1064
Up to 30W at 532nm
Up to 4W @ 355
300 kW peak power
Compact Air cooled Single Unit
Up to 200 kHz repetition rate
Electronic Pulse Energy Modulation
Sealed and rugged
Monolithic Design
24 Vdc
---
Applications
Material processing
Marking
Scribing
Medical and aesthetical
Thin film removal
Micro-machining
Nonlinear optics
---
Sol is the most compact Q-switched Diode Pumped Solid State laser available in the power range from 6W to 40W @ 1064nm.  Sol versions @ 532nn are also available with the same footprint.  These air-cooled DPSS lasers are offered in a rugged and lightweight Single Unit, designed to allow easy and reliable integration in micro-machining and marking applications.
The Sol Single Unit Design is based on a permanently aligned Monolithic Optical Resonator integrated with 24 Vdc powered driving electronics. Cooling of the unit is provided by low noise fans.
Due to the Single Unit design, optical fibers and other delicate cable connections will not be necessary for system integration.
Compactness, insensitivity to environmental conditions and ease of handling guarantee superior operation flexibility and performance/cost ratio.
The high peak power and the excellent beam quality of Sol lasers make them the ideal source for the most demanding industrial and scientific applications.
---
Options available
Beam expanding and collimating optics
Red aiming beam
Extended frequency range
Pulse Width Modulation
Circular Polarization
Monitoring Photodiode
AC-DC Power Supply
Fiber coupling
Low jitter option
---

 Sol brochure